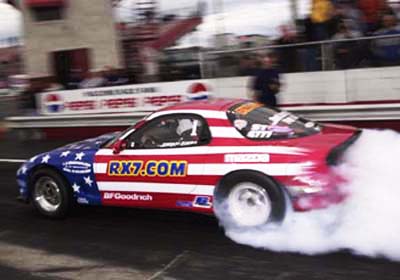 Speed is in our DNA, it's in our genetic map. Back in 1988, we took our 1979 peripheral-ported 1st generation RX-7 speeding down the streets of Dallas/Fort Worth on a dare. Someone with a Kawasaki Ninja 600 boasted that he can ride that route in 30 minutes, averaging out to over 120mph. Well, we cannot sit by and let this travesty to occur. So we hopped into our very loud and at the time, pretty fast, RX-7 and accelerated till we shifted into fifth, held down the accelerator to the floor and steered clear of traffic. To our satisfaction, and our ears' mercy, we finished the route in 25 min averaging over 125mph. Such is the fabric Rotary Performance is cut from.
In 1997, we took our trusty 1985 GSL-SE to our first sanctioned drag race event. The event was Import vs. Domestics and import drag racing is in its fetal stages. We were just out to have some fun; but ended up getting a taste of what racing is like and we're hooked. Oh, for the record, we did not win that event but did run a 13.3@106mph. Respectable numbers, especially back in the days.
In 1998, import drag racing is in its infancy. Us and a bunch of our friends, who happens to also be our customers, started going to the drag strip consistently. We never planned to join the drag racing community full time; we were just a bunch of speed freaks who enjoyed ribbing each other when we won. We were all driving 3rd generation RX-7s at the time, and the sensation of speed was exhilarating. Little did we know how much further we'll go.
In 1999, we decided to step up our efforts in the drag racing circuit. In part to prove to ourselves that we can do be the fastest; in part to silence our critics. We accomplished a lot of things in 1999: we made our first 10 second pass, we participated in our first national event and we travelled out of state for a drag race event (our first time ever). But at the end of the season, we were soundly beaten by more experienced, more professional, more savvy competitors. After the season is over, we sat around pondering what our next steps should be. We decided that the past year has been a good string of lessons learnt. Hard lessons, to be sure, but valuable ones if we were to overcome our amateurism and reach our goal. So we agreed to press on, hard. We saw a Dynojet Chassis Dynamometer later that year at the annual SEMA show. The next month, the dyno was bought and in the ground of our shop. With the dyno as a tool, we found 100 wheel horsepower in 2 weeks. Over the winter, we prepared the car for battle in 2000.
Y2k, the dreaded year where everything will self destruct and there will be worldwide anarchy and chaos. Well, apocalypse never descended upon us, however, the Rotary Performance drag car did. We have targeted the IDRC street tire series as the class we will be competing in. The winter's efforts has brought us good results. In our first race of the season, we won. In fact, we won every single race save for the last one. In the season opener, we mounted some slicks and clicked off our first 9 second pass: 9.62 to be exact. That is the fastest anybody has gone at that time in an RX-7 in "street" configuration.
2001, and the domination continues. NHRA has their Sport Compact Series' inaugural season in 2001, and we have decided to go after the Wallys (Wallys are the five-ton trophies NHRA gives out to the winners; well, maybe not five-ton, but it is very substantial). It was a banner year for Rotary Performance. Our drag efforts net us the NHRA championship for the street tire class in its inaugural season. And the way we won the championship opened even our own eyes. We went undefeated throughout the season. We were on top of the world.
Then came the fateful year of 2002: the season where the 6-cylinder machines dominated. Due to the displacement rules of the class (both IDRC and NHRA), where there are no restrictions to the amount of displacement one can run, the class was completely dominated by 3Liter, 6 cylinder machines. Not willing to be participant in a class where the rules do not allow for parity in competition, we sat idly by as we watched the class overrun by the 6 cylinder behemoths. We await the final ruling from the sanctioning bodies, and the news is not good. NHRA is dissolving their street tire class, while IDRC forged ahead with slight modifications to the existing rules.