The stock flywheel was designed with extra weight to make daily stop and go driving as easy as possible. The disadvantage of this weight is that your engine has to use more power to accelerate the flywheel which causes slower revs and an elastic feeling when engaging the clutch. If you're building your car for higher performance, a Bönez Lightweight flywheel will allow the engine to accelerate quicker with more power getting transferred to the asphalt. For comparison purposes, the stock flywheel weighs over 20lbs, but our Chromoly flyweel weighs only 10.65lbs.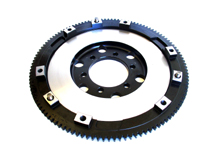 Our most popular flywheel for the non-turbo FCs. Lightening up the flywheel does so many things for the car. Better engine response, smoother power, easier shifting, more power to the ground to mention a few. The lightweight steel still has enough mass for easy everyday stop and go driving but still snappy for those weekend track events. This flywheel weighs 10.65lb and really transforms the car.
These flywheels will work with either the 12A or 13B engine, as long as the correct counterweight is used. They can also be used with the 79-82 engines (with the correct counterweight) in order to upgrade to the updated 225mm clutch configuration.
Note: Includes necessary installation hardware but requires counterweight (sold separately, see below).
Bönez 225mm Light Steel Flywheel - 83-85 Rx7
Price: $265.95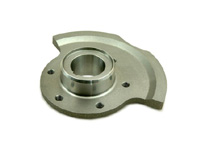 A rear counterweight is required when upgrading to a performance flywheel. There are tdifferent counterweights to match the different year models and types of engines in the Rx7 (12A or 13B). The counterweight needs to be matched to the correct year of engine, not the year of car that the engine is getting installed into (They can be different when doing an engine swap), they are not a "one size fits all solution". These counterweights work with all the flywheel that we offer and most other popular flywheels.
83-85 12A Rx7 rear counterweight
(custom balanced from a brand new C/W)
Price: $249.00




85-85 13B (GSL-SE) Rx7 rear counterweight
Price: $116.95