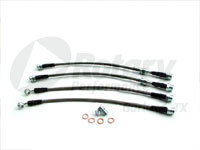 When upgrading your brake system, consider the benefits of RP D.O.T. legal braided stainless steel brake lines. Because the construction of these lines are far superior to original equipment, they will not crack, split or burst. Upgrading to the RP Stainless Steel brake lines will greatly improve brake feel and response.
These stainless steel brake lines are built to install in the exact same manner as the stock lines so no special tools or installation procedures are required.
RP Stainless Steel D.O.T. Lines
Price: $130.00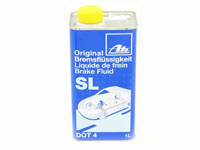 High performance cars need high performing fluid. Here's a favorite value, Ate SL brake fluid. The dry boiling point of this brake fluid is 500F and compares with the best. Sold in a one liter container to flush an entire system.
Ate SL DOT 4 Brake Fluid - 1 liter
Price: $12.95