Exhaust Info
Upgrading the exhaust system on a rotary engine car has always proven to be the easiest way to increase performance. When upgrading the system, you want to improve flow as much as possible for maximum power. If you drive the car on the street, then you must have a catalytic converter, otherwise you'll get the biggest power gains from a racing system.

1979-1980 Model
During the RX-7's first two years, Mazda used thermal reactors instead of catalytic converters to meet the emissions standards. Unfortunately, we do not offer a street-legal replacement system for these year models.

1981-1985 12A Models
Beginning in 1981, Mazda moved to using catalytic converters and did away with the thermal reactor system. Since the converter technology was very new at the time, the systems were very restrictive and sapped power from the engine. Replacing these converters with a high flowing unit or a race pipe is one of the best things you can do to help engine longetivity, increase performance, and increase fuel economy.

1984-1985 13B Models
The limited quantity GSL-SE, with its 6-port 13B engine, had an exhaust system similiar in many ways to the 12A model but unlike the 12A models, it utilized exhaust backpressure to open up additional ports on the intake manifold for high RPM operation. When upgrading to a high flow system, it's important to address this difference properly. All Bönez systems have provisions to help make the 6-port system work properly.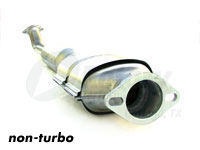 The Bönez Street Exhaust Systems utilize an ultra high temperature, high flow catalytic converter that has been specifically designed to handle the high exhaust temperatures the rotary engine produces.
The 81-83 system replaces both converters (main cat and precat) with a Bönez high flow converter and a presilencer. It will easily pass the annual "sniffer" test and clean up your exhaust to eliminate that special rotary exhaust "smell".
The 84-85 system replaces all three converters (main cat and both precats) with a Bönez high flow converter and a presilencer. It will pass a tailpipe "sniffer" test and get rid of that heavy rotary exhaust "odor".
These systems simply bolt up in place of the original parts. The optional Bolt and Gasket kits are recommended for a simple installation.
Bönez Performance Converter System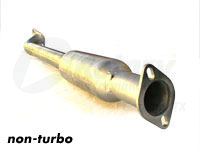 We also offer the Bönez cat replacement "Race Pipe" which replaces all the catalytic converters with a straight pipe and presilencer. This is a great upgrade for a car that gets used for track events.

Note: Not legal for street use, sold for racing use ONLY!
Bönez Race Pipe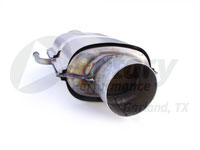 Just what's needed for your custom exhaust system. These catalytic converters are the same units used in Bönez direct bolt in systems. Recognized as the best flowing and most durable of all the catalysts, you simply can't go wrong with Bönez. Available in a variety of pipe sizes to match your custom exhaust system.