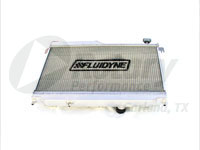 While it comes as no surprise to most of us, the 3rd generation RX-7 has been known to overheat easily when driven aggressively on the street or track. To help remedy this, we offer the Fluidyne high Performance radiator for the 3rd gen RX-7. using a 38mm thick core and 100% aluminum construction, it delivers a great balance of cooling efficiency and air flow (if a radiator is too thick, cooling air can not flow through it). The Fluidyne radiator delivers excellent performance at a great price. We've had only positive feedback from racers and street cruisers regarding the cooling capability and fit of this unit. Tested on the track and on the street, this radiator is a must for anyone that plans on using their car on the track or driving it aggressively in hot climates, like what we have here in Texas. Considered to be the ultimate radiator for extreme duty, it is built for manual trans RX-7s only!
Fluidyne Race Radiator
Price: $499.00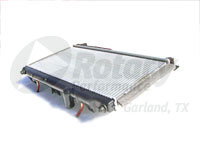 We carry a factory replacement radiator, built in Japan and uses the same aluminum core and plastic end tanks as the original RX-7 radiator. When replacing your high mile engine we recommend using this radiator or one of the aluminum units to eliminate the chance of a split radiator tank and a blown engine. High quality construction and an economical price make this radiator impossible to beat as a replacement unit for an unmodified car.
Stock Radiator (automatic only)
Price: $485.00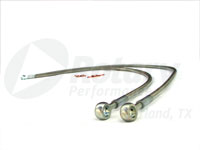 New Steel braided oil metering lines are the perfect replacement for your factory plastic units. The originals are notorious for yellowing, cracking and breaking at the worst time. Remember: All the oil that travels through these lines is meant to lubricate the apex seals. Anything leaked is cutting down on apex seal life. Like our DOT approved brake lines, each line is teflon inside with braided stainless steel on the outside. Unique to our lines, the outside is clear vinyl sleeved to avoid abrasion through hoses and wiring near the lines. With a burst strength of 10,000 psi, these will never fail. Pick up a set today.
RP Stainless Steel Oil Metering Lines
Price: $98.00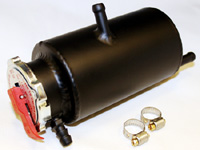 The aluminum Air Separator Tank should be the first upgrade to the cooling system. The plastic tank that the RX7 is originally equipped with has proven to be inadequate again and again. The extreme underhood temperatures combined with the pressures of the cooling system can cause the tank to fail without warning and drain the pressurized cooling system in virtually seconds. Our redesigned V3 version of the AST now creates a "swirl" effect to better eliminate air bubbles from the coolant. It also includes a billet neck for a positive seal and uses the same cap size as the original Mazda tank. Mounting hardware, clamps and a Stant Lev-R-Vent cap are included. Finished in durable black powder coating or available in raw aluminum for show-car polishing or custom painting.
Note: An AST cap, hose clamps and mounting hardware are included.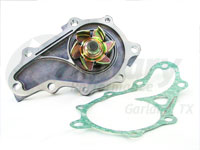 Looking for a Mazda quality water pump without the Genuine Mazda price? Well, wait no longer. Here's the very same water pump we use in our own shop. This quality Japanese made pump is identical in all aspects to the OE unit. One extra bonus: A new gasket is included.
RP Aftermarket Water Pump
Price: $99.95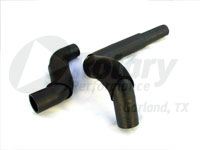 Just what you need to make life much easier and safer for your 1993-95 RX-7. These are the original equipment genuine Mazda hoses. A definite must for any radiator or engine installation.
Radiator Hose Set
Price: $49.95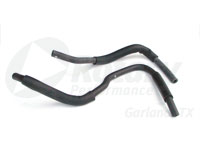 Perfect for every Air Separator Tank installation. These are the original Mazda hoses for the air separator tank. Both are common failure items and are likely as old as your AST. Replace them before they fail on their time. Sold as a set (one upper one lower).
Air Seperator Tank Hose Set
Price: $58.41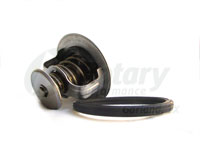 Keeping the cooling system maintained is definitely a priority to any RX owner. To regulate the temperature of the engine, we've never found anything superior to the genunie Mazda thermostat. Here it is by popular demand. Sold in the original Mazda box (gasket sold separately).
Mazda Genuine Thermostat 89-95
Price: $19.85




Thermostat gasket (o-ring) 89-95 Rx7
Price: $4.00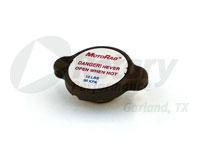 For those not interested in a performance radiator cap we also carry a factory replacement cap.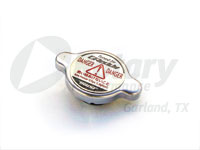 You can upgrade your cooling system with the installation of the Greddy Performance radiator cap. By increasing the operating pressure of the system the boiling point is also increased and the risk of overheating is reduced. (For small filler necks only)
This upgrade is only recommendd for race cars because of the increased chance of coolant leaks.
GReddy Radiator Cap 1.3bar/19psi
Price: $34.95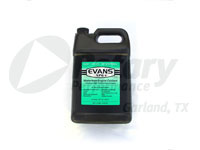 Used in our own record setting race car, Evans High Performance is a waterless coolant that can operate well even in a non-pressurized system. Along with its high boiling point of 375°F, NPG+ also features better heat transfer to minimize detonation and pre-ignition. About 3 gallons are required to fill an RX-7 (depending on radiator size).Note: Evans High Performance is a pure coolant with no water added. It is not compatible with any amount of water in the system.
Evans High Performance Waterless Coolant - 1 gallon
Price: $42.95





When performing a conversion to Evans, it is recommended that the system be flushed out with Evans Prep Fluid. Evans Prep Fluid will draw any remaining water and coolant from the system to allow the Evans to perform to its full potential.
Note: Flushing the system is not necessary if you're installing a fresh, "dry" engine at the same time as a doing a conversion.
Evans Prep Fluid - 1 gallon
Price: $29.95





Prices subject to change without notice