•Oil Pressure

•Fuel Pressure

•Air:Fuel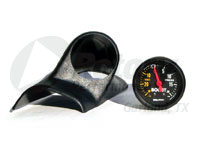 We offer A-pillar mounts which are designed to accept 1 52mm (2") gauges. They have a factory black finish to them and place the gauges in an easy to view location. The picture shown to the right is the RP Single A-Pillar mount with the Autometer Boost gauge. Shown with optional AutoMeter Boost gauge.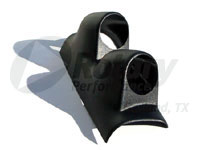 We also offer A-pillar mounts which are designed to accept 2 52mm (2") gauges. They have a factory black finish to them and place the gauges in an easy to view location.
RP A-Pillar Dual Mount
Price: $47.95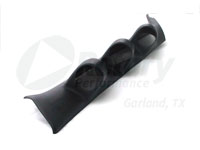 We now offer triple A-pillar mounts which are designed to accept 3 (Three) 52mm (2") gauges. They cover the entire stock pillar and have a factory black finish to them. These mounts place the gauges in the proper angle and location for easy viewing by the driver.
RP A-Pillar Triple Mount
Price: $84.95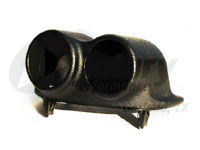 The Tripower dual gauge pod snaps into place and completely replaces the center channel speaker and grill located in the top middle of the dashboard of the 1993-1999 Mazda RX-7. There is no drilling or glue required since it uses factory mounting clips.

* Black Textured Finish Matches Factory Interior
* Rigid ABS Plastic Housing and Base Plate
* Ideal Field of View for Critical Gauges
* No Blind Spot Created
* Interior Retains Clean, Original Appearance
Note: Fits 52mm gauges on LHD models only

Tripower Dual Dash Pod
Price: $123.80





One extremely important gauge that is a requirement for any modified (or even stock!) turbocharged RX-7 is a boost gauge. This allows you to monitor how the car is performing and how changes effect the boost levels. The GReddy and Apex gauges are the highest quality guages we've been able to find on the market for an affordable price. The Autometer gauges are also very well known and function well though they don't hold the same high quality standards of the GReddy and Apex gauges.



An exhaust gas temperature (EGT) gauge is useful for both tuning the car as well as a warning device. As your car begins to run lean, the exhaust gas temperatures will begin to rise. Richer mixtures, on the other hand, tend to give cooler exhaust gas temperatures. This information is EXTREMELY useful when tuning your car as well as for everyday driving. You can easily save your turbo and engine by simply installing and monitoring this gauge on both the street and the race track.


The Mazda water temperature gauge has basically three positions; cold, normal, and "you just cooked your motor". Not exactly the most precise way to monitor your temperatures and protect your engine. With the GReddy and Apex gauges you can see your temperatures more clearly and you'll see how the temps will often climb and fall while the stock gauge is still reading "normal". This has saved countless motors which would have otherwise been damaged by high temps that often never register on the stock gauge until it's too late.

You can also use these gauges to read oil temperature which is also a good indicator of when the engine it too hot. If the oil gets too hot, it will not protect the engine properly which can cause excessive wear and even damage.


Frankly, the Mazda oil pressure gauges are a joke. If your stock oil pressure gauge still works, chances are it's readings are highly inaccurate. We often gets calls for cars not reading the right pressure and 99.9% of the problem is due to a faulty gauge. Don't drive around in the dark not knowing if your engine is getting the oil it deserves, get a quality gauge and drive worry free.

And for those upgrading the performance of their car, a Fuel Pressure gauge is extremely helping in tuning in those aftermarket fuel pressure regulators or for detecting the need for a better fuel pump. We only carry eletronic gauges which use a sending unit mounted under the hood instead of running fuel into the cabin or messing with a isolator which frankly, never works right anyway.




Monitoring your air:fuel ratio is extremely important when you begin to modify the performance of the car with an upgraded exhaust, intake systems and so on. If the engine is run with too little fuel, a lean condition will occur and engine damage is very likely. Likewise, running too rich will cause gas mileage and performance to suffer.

Prices subject to change without notice