Upgrading the exhaust system on a rotary engine car has always proven to be the easiest way to increase performance in the past and the same holds true for the 3rd generation RX-7. When upgrading the system, you want to improve flow as much as possible for maximum power. If you drive the car on the street, then you must have a catalytic convertor to remain emissions legal. Otherwise, off-road cars used exclusively on the race track will get the biggest power gains from a racing system. Our Bönez exhaust lineup features mandrel-bent, thick-walled 304 Stainless Steel with 1/2" flanges for maximum durability and longevity. Additionally, each and every exhaust component is test fitted on our jig to ensure perfect fitment.

Downpipes are one of the most popular and important changes you can make for your FD. Everyone knows how hot our cars can get under the hood. A large part of this is from the radiating heat of the factory pre-catalytic converter. This heat rapidly damages underhood parts, lowers performance and shortens engine life. Removing this and installing a downpipe will improve turbo spool, lower heat, increase performance and help mileage. The Bonez downpipe utilizes a 3" mandrel bent design and is fully Stainless Steel. The pipe is a completely bolt up design and connects from the stock turbos back to the stock or a performance main cat. Note: Since this eliminates the pre-converter, it is sold for racing use ONLY!
Bönez 3" Stainless Steel Downpipe - for high flow main cat or midpipe
Price: $276.00




Bönez 3" Stainless Steel Downpipe - for original MAZDA main cat
Price: $299.00




Downpipe to Main Cat Gasket
Price: $8.95




Turbo to Downpipe Gasket
Price: $156.22




RP Aftermarket O2 Sensor
Price: $40.00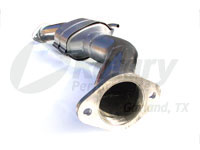 The exhaust heat produced by a rotary engine is much higher than that of a conventional piston engine. This created quite a problem for us in our quest for an aftermarket catalytic converter that could perform up to our demanding expectations. After trying nearly every aftermarket cat available, we found that they all use a standard type suspension material around the ceramic converter brick. This material is not designed to endure the tremendous heat of the rotary exhaust which causes it to fail prematurely. Once the suspension material has overheated and broken down, the ceramic converter brick is left loose to rattle inside the case. The loose ceramic brick eventually causes its own self destruction, increased backpressure, and excessive noise.
After extensive research and development, we are proud to present the Bönez catalytic converter. Unlike other aftermarket catalytic converters, the Bönez unit uses a stainless steel mesh suspension element that surrounds the large, high flowing converter brick. This suspension element is built to withstand extreme termperature demands, and provide many miles of dependable performance. The case is also constructed of stainless steel for better durability, and incorporates a unique design which causes the inlet exhaust gases to spread evenly over the brick for better flow, improved efficiency, longer life, and reduced noise. This item fits between your stock precat or performance downpipe and will bolt directly to the stock catback system or any other aftermarket catback system. The Bönez kit also is much lighter than the stock unit it replaces and noise levels are only slightly increased. Please also note that the oxygen supply tube from the air pump is still retained, making this system 100% bolt on.
Bönez 3" Stainless Steel Main Converter
Price: $548.75




Main Cat Bolt and Gasket Kit
Price: $25.00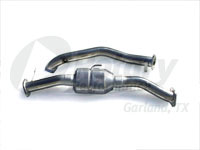 The Bönez Performance Converter System is an excellent option for those seeking a street legal system that provides improved performance, better gas mileage, and less stress on the engine and turbos. Our kit replaces both of the stock catalytic converters with a smooth, mandrel bent racing downpipe and a center section which utilizes one of our unique, 3" high flow converters. This combination gives you the most power possible while still remaining emissions legal, as well as lasting much longer than any other converter available on the market. This kit is completely bolt up and replaces everything from the turbos back to the stock or aftermarket cat-back exhaust. The oxygen supply tube is also retained.
Bönez 3" Stainless Steel Performance Converter System
Price: $799.90




Main Cat Bolt and Gasket Kit
Price: $25.00




Turbo to Downpipe Gasket
(can be re-used in many cases)
Price
: $156.22



RP Aftermarket O2 Sensor
Price: $40.00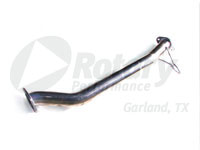 The Bönez Racing Main Cat Pipe (midpipe) replaces the restrictive catalytic converter for significant power gains and increased engine and turbo life. Constructed with 3" heavy duty stainless steel that is mandrel bent for maximum flow, this pipe bolts up in a few minutes. It connects from the stock precat to the stock cat-back exhaust and is also compatible with aftermarket downpipes and cat-back exhausts. Note: Racing use ONLY! Not for street use.
Bönez 3" Stainless Steel Main Cat Pipe (Midpipe)
Price: $228.75




Main Cat Bolt and Gasket Kit
Price: $25.00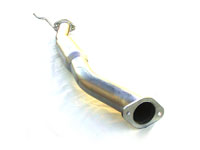 Tired of harsh noise from your 1993-95 RX-7 after removing the cataytic converter? Here's the solution: Install a resonated midpipe. This stainless steel Bonez midpipe has a silencer designed specifically to remove the raspiness from the exhaust note. Our experience has found that the overall noise is reduced almost in half.
Bönez 3" Stainless Steel Resonated Main Cat Pipe (Resonated Midpipe)
Price: $298.40




Main Cat Bolt and Gasket Kit
Price: $25.00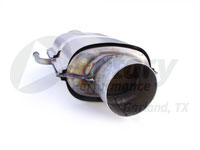 Just what's needed for your custom RX. These catalytic converters are the same quality units used in their direct bolt in systems. Recognized as the best flowing and most durable of all the catalysts, you simply can't go wrong with Bönez. Available in a variety of pipe sizes.
3" converter shown.
3" Bönez Performance Converter (Blank)
Price: $229.00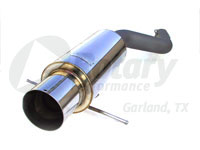 Race developed and designed for optimal flow. Minimal muffling used so this system will be loud. Piping diameter: 70-85(mm)
A'PEXi N1 Racing Exhaust
Price: $489.95





Unique dual muffler design. Built for racing with sound levels slightly higher than the N1. Piping diameter: 65mmx2
A'PEXi Dual N1 Racing Exhaust
Price: $579.95





Can be used with APEX'i N1 and Dual N1 system to reduce noise while street driving (this unit is included with the GT system). Made in Japan by Apex'i.
A'PEXi N1 Silencer
Large Silencer - 115mm
Price: $44.95




Small Silencer - 90mm
Price: $44.95




A'PEXi N1 Silencer Removal Tool
Price: $16.50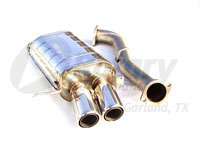 Dual Stainless Exhaust Tips on this system offer a mild, near stock, look while delivering high flow. If you're building a "sleeper" or just want to avoid attention from the wrong people, this system is for you! Flow without the aggressive look of the single tip systems. Mellow exhaust tone and conservative styling makes this a great choice.
Racing Beat Dual Tip Exhaust
Price: $744.00





Prices subject to change without notice