The stock fuel system on the 3rd generation RX-7, with an appropriate ECU upgrade, can support upwards of 380HP* on the stock motor. The first component in the system to need replacing is the stock fuel pump. We offer an upgraded stock replacement pump which is an easy bolt in and can support over 500HP*.

Your next limitation in the fuel system comes from the injectors themselves. The stock fuel system uses two 550cc injectors for primaries and two 850cc injectors for secondaries which come on at higher RPMs. Those injectors, maxed to their extreme limit (100%), will support approximately 420HP* at stock fuel pressures. You don't want to push the injectors beyond 80%-85% duty cycle though for reliability reasons. To support more power on street driven cars, we recommend using additional injectors.

For those serious about RX-7 performance, looking for more power and more precise tuning we also offer two stand alone ECU systems, the Haltech and the Power FC. Stand alone ECUs are only recommended for the more advanced tuners, those with experience, with access to a dyno and a wide band air-fuel meter.

Last but definitely not least, make sure you change your fuel filter at least every 30,000 miles. No matter how big of a fuel pump or how many injectors you have, you won't get the fuel you need unless you have a good, fresh fuel filter.
* horsepower at the flywheel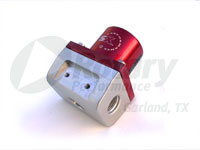 SX fuel pressure regulators are the most reliable, stable fuel pressure regulators we've ever seen. They are fully adjustable and can bypass enough fuel for any size pump you can throw at them. They come standard with dual fuel inlets for a variety of plumbing techniques. The SX regulators are designed for use with -6 AN fittings. For those using a standard 5/16" (8mm) hose we offer a rubber hose adapter kit which includes all the fittings and barbs necessary.
SX Fuel Pressure Regulator - SX-6
Price
: $164.95



5/16 Hose Adaptor Kit for SX-6
Price: $25.00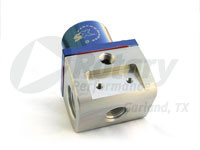 The SX-10 regulators are designed for use with -10 AN fittings. For those using a standard 5/16" (8mm) hose we offer a rubber hose adapter kit which includes all the fittings and barbs necessary. The SX-10 regulators also have a 1/8" pipe threaded conection for fuel pressure gauge connection or nitrous fuel tap. This is the same one we use on our RX7.COM championship drag car.
SX Fuel Pressure Regulator - SX-10
Price: $164.95




5/16 Hose Adaptor Kit for SX-10
Price: $20.00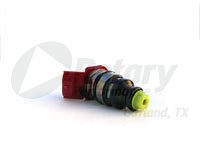 Mazda uses Denso injectors in the FD Rx7. These are the ones to have if your FD has sprung a leak through the side on one of your injectors. At times, the primary injectors on 1993-95 RX-7s will start to leak fuel after a years of use due to the extreme heat load that they are exposed to. If your car has the original injectors, pay attention! If you smell raw fuel under the hood, investigate the problem and replace your injector o-rings or injectors with these before the enginet catches fire. The 850cc injectors can be used on the primary fuel rail with minor machining. This upgrade allows 21% more fuel to be available for tuning your street ride. This will give enough fuel for up to 400HP to the ground and is a favorite for twin-turbo and medium sized single turbo systems.
Note: To use 850cc injectors in the primaries, you must have a fully programmable engine management system like a PowerFC or Haltech.
550cc injector shown.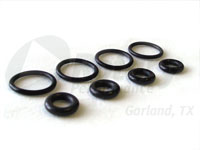 Here's a solution for those with leaky injector o-rings. As we all know, heat breaks down rubber over time. Unfortunately, turbocharged rotary engines make quite a bit of heat and over time the injector o-rings harden and can potentially leak. Any time you're doing major under-manifold service it is advisable to replace these o-rings. From Mazda these o-rings will total over $120. We have them here as a complete kit at an unbeatable price.
RP Injector O-ring Kit - Complete for 4 injectors
Price: $28.44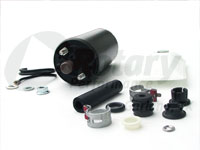 The stock fuel pump was designed to handle the fuel requirements at near stock levels. Once you've upgraded the car to a point where more fuel is required, you'll need to address this weak link in the system. We use a special, high flow fuel pump, made by OE manufacturer Denso in Japan, which exactly replaces the stock fuel pump. This dual stage unit takes less than an hour to install, doesn't make any more noise, is extremely reliable, requires no cutting, welding, new lines, or anything else. It's also the highest flowing unit we've tested that doesnít make the car run rich at idle, unlike other 'bolt ins'.
Introducing our next generation fuel pump: it's often hard to make a good thing even better. Our previous generation competition fuel pump has long been the standard of the industry. Now we've made it even better. The most important facts are still the same. It's still a direct bolt-in application and still a quality Denso pump. Volume has always been the most of any drop in pump, but now has been enhanced even more (17% better than Walbro). To make it even better, we've included an install kit. This kit includes an OE inlet filter, o-rings, hose connections, hardware and even a ground wire for a wiring supplement ($45 value). All these features and at the same price.
The pump has been tested to support 500HP at the flywheel (at 40 PSI base pressure) and is a good upgrade for those with upgraded ECUs and/or those adding additional injectors.

| | | | |
| --- | --- | --- | --- |
| | 40psi | 50psi | 60psi |
| Walbro | 438 | 405 | 375 |
| Old RP Pump | 490 | 450 | 400 |
| New RP Pump | 490 | 475 | 425 |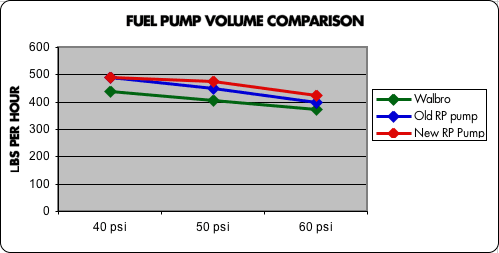 RP Competition Fuel Pump
Price:$264.00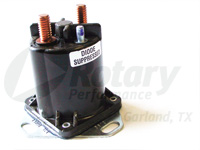 Are you running a high current external tank fuel pump or dual intank units? If so, this is the relay you need to ensure proper voltage gets to the pumps. The original wiring is designed to not exceed 30A of power. A full race fuel pump can easily push this limit, especially at full boost. This relay is rated at such a level that there is no way to exceed its rating. Keep in mind: This is a competition part that is only needed on dual pump or external pump applications.
RP Fuel Pump Relay
Price:$35.00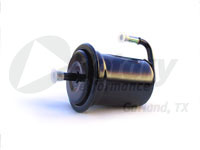 Do not starve your engine for fuel! One of the most common maintenance mistakes we all make on our cars is not changing the fuel filter regularly. Fuel flow is absolutely imperative on any car, especially on turbocharged Wankels. Old fuel filters allow debris to slip past and clog injectors, impede fuel flow and put your engine at risk. The recommended interval is 24 months or 30,000 miles. This RP aftermarket filter is a perfect fit for the original and has been used on countless cars.

Smelling raw gasoline under the hood of your Rx7? This just might be the culprit. The pulsation damper is a necessary part of the fuel system, but commonly ages and starts to leak. The results have often been an underhood fire. This part is commonly replaced during engine installations, vacuum hose upgrades or primary injector service. A new Mazda o-ring is included for many years of reliable, leak-free performance.
Mazda Fuel Pulsation Damper w/ new o-ring
Price:$166.40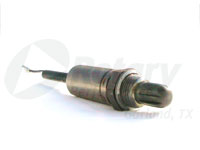 Tired of poor mileage on your RX-7? Here's a solution. The oxygen sensor is out of sight and out of mind. On many cars, it has never been replaced. Unfortunately, O2 sensors lose accuracy with time and eventually ends up hurting gas mileage. Replacing this part every 30,000 miles will keep this from ever becoming an issue. Some have seen improvements of as much as 8mpg. Our replacement is a direct fit and saves about $100 over the Mazda unit. Buy one today and save!
RP Aftermarket O2 Sensor
Price: $40.00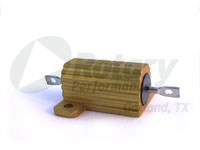 These are ballast resistors for using low reisistance injectors with a high resistance computer application. One resistor is used per injector and is wired in series. Sold individually.
Fuel Injector Resistor
Price: 10.00





Prices subject to change without notice